A spirit of haute couture
Jean-Paul Gaultier
« The expertise of the artisans is greater
than the inventiveness of the master designer ».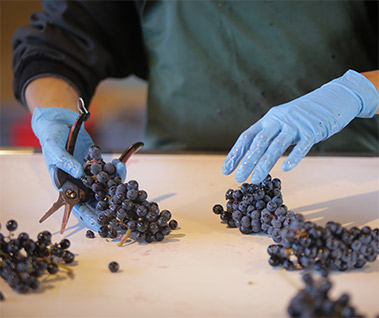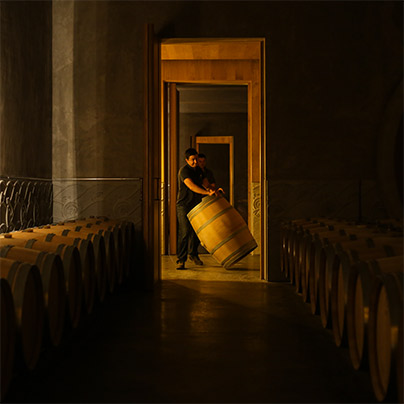 Arts and crafts
In the vineyard, then in the cellar, Marquis d'Alesme wines develop slowly in the hands of passionate craftsmen who make each vintage with the sole aim of conquering the best nature has to offer.
A love of fine workmanship draws these master craftsmen into a quest for what is really essential, as day by day with meticulous care they refine the different elements of a composition whose ultimate harmony transcends nature.
Made to measure
After the hand-picking that turns the estate into a hive of activity, it is time for a series of sorting operations carried out by a host of helpers, until only the most perfect berries (the "caviar" of the estate) remain. The vinification process is then carefully monitored, batch by batch, until the ageing period, when the wine matures in French oak barrels nested in dark and quiet alcoves.
We have to take our time and use all our resources to produce such a magnificent result from the fruit of our land. Only then can the pieces of the jigsaw fall into place, creating the wine we have been awaiting so eagerly: the true signature of the estate.
The fine tannic structure of Château Marquis d'Alesme, which is both powerful and elegant, underlines dark berry notes (cherry, blackcurrant, blackberry) and reveals the full richness of its bouquet, crowning three years of meticulous care, from pruning the vines to bottling the wine.
This wine is a world in itself, telling the centuries-old story of an outstanding terroir whose quintessence is revealed by the imaginative power of constant inventiveness.